Accelerate virtualiSed desktops and applications
NVIDIA GRID™ offloads graphics processing from the CPU to the GPU in virtualized environments.
IT Benefits Include:
Take advantage of leading virtualization solutions, including Citrix, Microsoft, and VMware
Add graphics-intensive users to your virtual environment
Improve productivity for all



User benefits include:
Highly interactive windows and multimedia
Access to all their applications
Usage on any device, anywhere

GRID BOARDS
GRID graphics boards are designed specifically for the data center. They have an optimized multi-GPU design that helps maximize user density and are designed to provide data center-class power efficiency, including the revolutionary new streaming "SMX" multiprocessor. Working closely with leading server vendors such as Cisco, Dell, HP, IBM, and SuperMicro ensures GRID cards perform 24/7 for the life of the system.
| | | |
| --- | --- | --- |
| | GRID K1 | GRID K2 |
| Number of GPUs | 4 Kepler™-based GPUs | 2 high-end Kepler™-based GPUs |
| Total NVIDIA CUDA cores | 768 | 3072 |
| Total memory size | 16 GB DDR3 | 8 GB GDDR5 |
| Max power | 130 W | 225 W |
| Board length | 10.5" | 10.5" |
| Board height | 4.4" | 4.4" |
| Board width | Dual slot | Dual slot |
| Display IO | None | None |
| Aux power | 6-pin connector | 8-pin connector |
| PCIe | x16 | x16 |
| PCIe generation | Gen3 (Gen2 compatible) | Gen3 (Gen2 compatible) |
| Cooling solution | Passive | Passive |
| Technical Specifications | GRID K1 Board Specifications | GRID K2 Board Specifications |

XENDESKTOP
A wide range of graphics applications—from PowerPoint and videos to intensive 3D CAD and interactive rendering of medical imagery—are now fully interactive with Citrix XenDesktop and NVIDIA GRID. NVIDIA works with over 100 leading workstation application companies to ensure this experience meets their stringent application certification standards. A list of these solutions that are currently certified on GRID can be found here.

With XenDesktop, you can access the GPU in two ways:
GPU Pass-through with Citrix XenDesktop 5.6 or Citrix XenDesktop 7 VDI delivery - providing a virtual machine access to a dedicated GPU.
GRID Virtual GPU (vGPU) with XenDesktop 7.1 - providing the most advanced way to share a GPU.

NVIDIA GPU PASS-THROUGH Technology
By directly connecting a dedicated GPU to the hypervisor, you can now allocate the full GPU and graphics memory capability to a single virtual machine. For a list of certified applications, download NVIDIA GRID Remote Workstation Certifications (PDF 274 KB).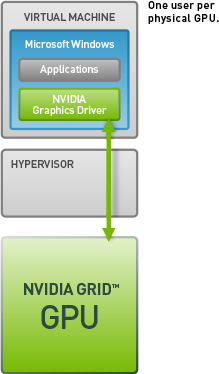 Shared Virtual GPU (vGPU) Technology
NVIDIA GRID™ vGPU™ is the most advanced technology for sharing true GPU hardware acceleration between multiple virtual desktops—without compromising the graphics experience. Graphics commands of each virtual machine are passed directly to the GPU, without translation by the hypervisor.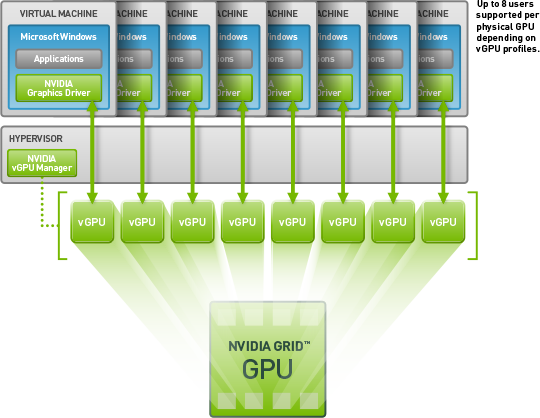 vGPU Profiles
Take advantage of vGPU Manager to assign specific memory to meet the needs of each user. So everyone will always have the resources they need to launch and use their applications. vGPU Manager enables up to eight users to share each physical GPU, assigning the graphics resources of the available GPUs to virtual machines in a balanced approach. Each NVIDIA GRID K1 card has up to four GPUs, allowing 32 users to share a single card.
NVIDIA GRID Graphics Board
Virtual GPU Profile
Application Certifications
Graphics Memory
Max Displays Per User
Max Resolution Per Display
Max Users Per Graphics Board
Use Case
GRID K2
K260Q
2,048 MB
4
2560x1600
4
Designer/Power User
K240Q
1,024 MB
2
2560x1600
8
Designer/Power User
K200
256 MB
2
1900x1200
16
Knowledge Worker
GRID K1
K140Q
1,024 MB
2
2560x1600
16
Power User
K100
256 MB
2
1900x1200
32
Knowledge Worker
The GPU profiles ending in Q undergo the same rigorous application certification process as our NVIDIA® Quadro® workstation-class processors. For a list of certified applications, download NVIDIA GRID Remote Workstation Certifications (PDF 274 KB).

The GRID K100 and K200 GPU profiles are designed for the lighter graphics workloads associated with the applications that knowledge workers and power users use most of their time. These include Windows 7 with Aero enabled, viewing rich web content such as Adobe Flash or HTML 5, or simply getting the full interactive experience of Microsoft Office (PowerPoint, Excel, Word). To understand more about the graphics requirements of your applications, consult your application vendor.

INSTALLING NVIDIA GRID VGPU
Step 1: Make sure you have configured XenServer 6.2.0, XenServer vGPU Tech Preview Hotfix, and XenDesktop 7.1 Tech Preview. Visit www.citrix.com/go/vgpu for more information.

Step 2: Download the NVIDIA GRID vGPU Manager and Installation Guide. It includes:
GRID vGPU User Guide
Release Notes
GRID vGPU Manager R312.53
Step 3: Download the Product Series "NVIDIA GRID vGPU" Driver for GRID K1 or K2 for your Virtual Machine (VM).
NVIDIA GRID IN ACTION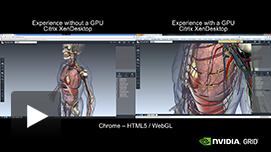 WebGL Video: GPU Pass-through with Citrix XenDesktop (01:02)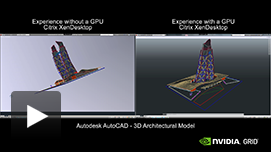 Autocad Video: GPU Pass-through with Citrix XenDesktop (00:49)

© 2013 NVIDIA Corporation. All rights reserved. NVIDIA, the NVIDIA logo, andNVIDIA GRID are registered trademarks and/or trademarks of NVIDIA Corporation in the United States and other countries.